Doll Sewing Pattern
Patterns used for Miss Dolly's Clothes
This vintage doll sewing pattern for life size dolls was found on ebay.  I have not seen them anywhere else.  Life size doll patterns are not as easy to find as the more common doll sizes.  Below is a good selection of doll patterns.  Be sure to check the size doll it's made for before purchasing.
Doll Sewing Patterns for Dolly & Suzie

(in progress)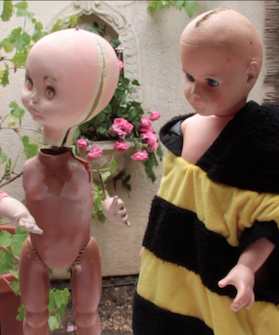 Doll sewing patterns with Dolly and Suzie in mind. Dolly (left) and Suzie (right), are in desperate need of new clothes, and they've come to the right place to get them. Both will be wearing retro clothes sewn from the vintage sewing patterns below.
Below is a little history on these two dolls. First Dolly, along with a couple of pictures of the progress so far.  Then a little history on Suzie at the bottom of the page along with a few before pictures.  When they are done with their make-overs, they'll each have their own page and video, but until then, the progress will be covered here.

Subscribe with only your email, if you'd like to be notified when these videos and tutorials are released.

---
From Ms Ugly to Ms Dolly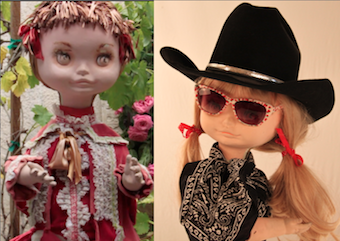 Howdy. My friends call me Miss Dolly.  That's me in the photos above. The photo on the left is me before my makeover, and the photo on the right is me after getting a good cleaning and having my hair removed. I'm so excited about my new retro clothes made from the vintage doll clothes patterns below.  Then, I'm getting permanent hair and a full makeover with a  spray tan, makeup, some cool accessories,  and who knows what else.  YeeHaw!  I can't wait. It's all going on video for all to see. I feel like a star already. 

---
1950s  Vintage Doll Pattern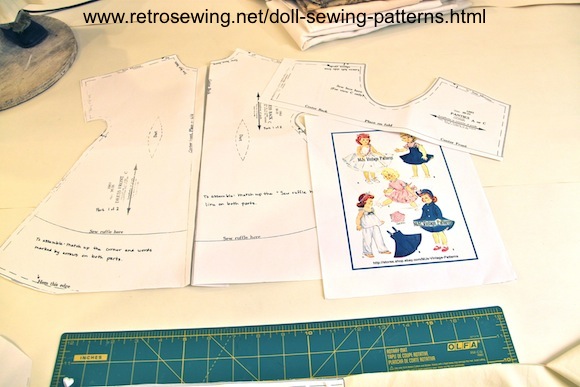 I'll be wearing a western "Steam-Punk" styled dress.  I like the  dress pattern in the middle (above), and the red vest pattern from the pattern below.  The vest will be made of leather scraps from a previous project.  Also a lace blouse, and boots too.  If you'd like to be notified when my makeover video is ready for viewing, please Subscribe with only your email.  I'm almost ready for my closeup.

Laying out the Pattern

---
 Making The Ruffle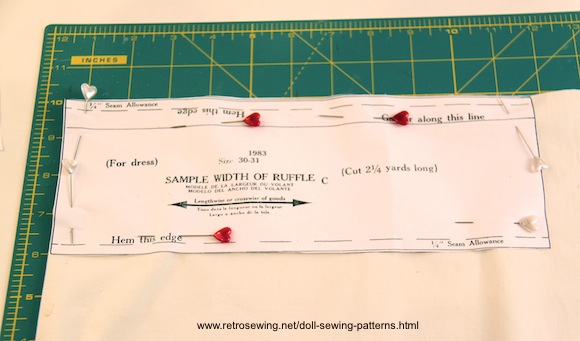 Cut out the pattern piece for the ruffle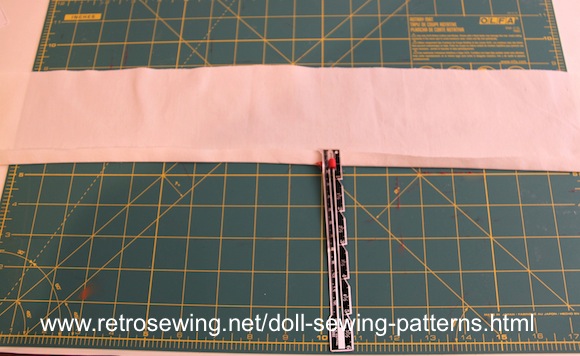 Hem the ruffle.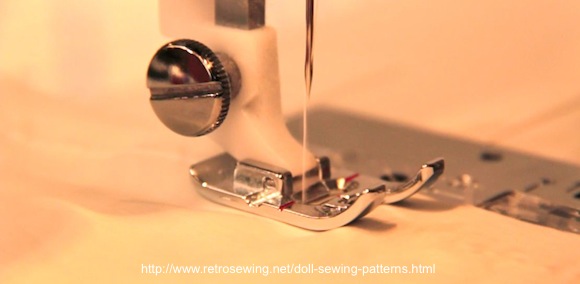 Sew across the top of the ruffle with a large basting stitch.

---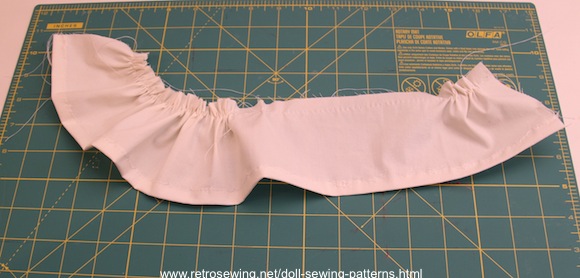 Gather the ruffle by carefully pulling the basting stitch from each end.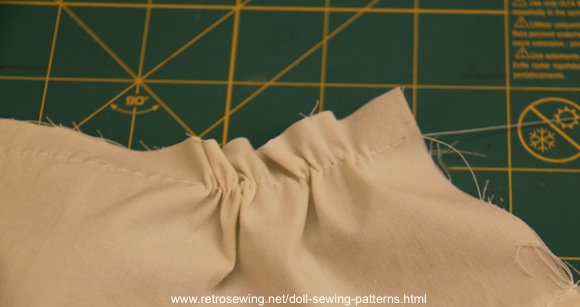 When making the basting stitch leave lots of threat at each end for  pulling and gathering.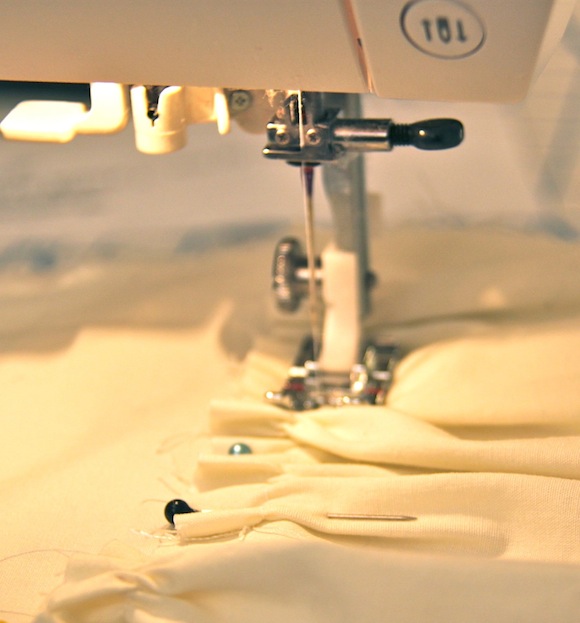 Sew the basting stitch in place with a regular stitch, as pictured above.


Add the ruffle to the line on the dress. Should look like this.

---
---
Vintage Doll Sewing Patterns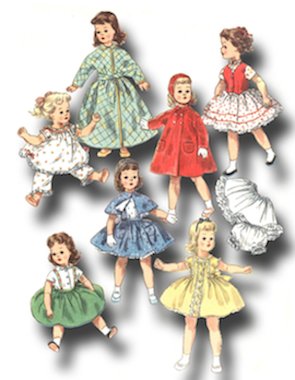 These 1950s vintage doll sewing patterns have many options and can be used for much more than a retro style.  These are life-size patterns for a life-size doll.  We'll be making the dress in the upper right corner for "Suzie", who is owned by my daughter.  She  has played with this doll since she was a kid, and still owns her now at 25 yrs old. She's 30" tall and desperately in need of a make-over. My daughter is coming for a visit this weekend, and while she's here, we'll discuss the makeover, which will include a wig, eyelashes, makeup, and new retro clothes among other things.
As soon as Sue is ready for her close-up you'll see it here.  Subscribe today if you'd like to be notified when this makeover video is released. 

Vintage 1950s Doll Pattern for 29" 30", & 31" doll.
If you'd like more details on this pattern, Contact Us .

---
Retrosewing NAme CHange 
Update

Hello. My name is Pam.  Welcome to theDIYeffect.com, also known as RetroSewing.net.  Thank you for  visiting, and please bear with me during the changes the website is going through right now. I'm updating the design and content, so  things are a bit scrambled right now, but it will be worth it when done. 

Much has happened since I started this website in 2009.  A big move to the country, lots of remodeling, gardening, experimenting with recipes, party planning and parties are just some of the activities keeping our family busy.  Living in the country is full of new, exciting things to do and discover.  I love the fresh air, wild life, and beautiful country views, not to mention new experiences,  like watching my husband learn to drive a tractor. 

Our life is full of DIY's, and that's how theDIYeffect.com was born.  Retrosewing will always be a part of theDiyeffect.com, and retro sewing projects will continue, but this change of name (RetroSewing to theDIYeffect.com) will accommodate all my DIY activities, including "Home Improvements",  "Recipes", "Gluten-Free Recipes",  "Growing a Square Foot Garden", "Party Planning Ideas",  and of course "Sewing".  I'll soon be posting the adorable "1950's Playsuit" with romper and skirt,  as well as many other DIY's. Hope you'll join me.

For more info about this site, and all the people behind it, check out the "about us" page.

Enjoy!