Fabric Preparation
A Few Words & Definitions to Learn
Fabric Preparation: The way a garment hangs and fits has a lot to do with the way the fabric is prepared. Take a few minutes to study and understand this page and suggested videos and links. With some practice, and an understanding of how to prepare and lay out fabric, you'll be on your way to beautiful results.
The Anatomy of Fabric
Grain - Direction fabric threads run
Lengthwise grain - The stable threads that run parallel to selvage
Crosswise grain - Threads that run from selvage to selvage
Bias - Diagonal to the lengthwise and crosswise threads
Grain-line - Arrow marking on pattern tissue that indicates straight grain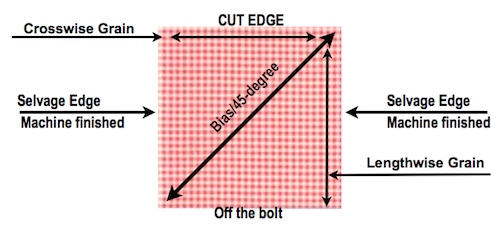 Fabric Preparation
Preshrink or Not?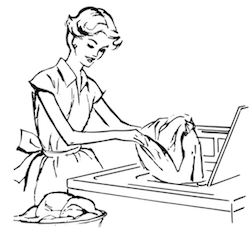 FABRIC STORE - Be sure to take note of the fabric care instructions on the end of the bolt at the fabric store.
TESTING - To test the fabric for shrinkage, cut a small piece of fabric out and trace around the fabric swatch. Then wet the fabric and press it dry. Compare it to the traced size. After testing, you can decide if preshrinking is necessary. Preshrinking can also help keep hems and seams straight.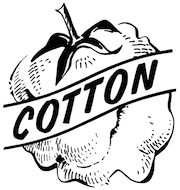 PRESHRINKING - If the test shows it shrinks, or if you know it's going to shrink because it's 100% cotton, then wash and dry according to manufacturers directions. If the fabric is going to shrink, it's best it happens before you create your master piece.
Preshrinking is usually recommended on everything including the zipper, lining, interfacing, etc. Saturate with warm water and let air dry or press dry (except fusible interfacing. The fashion fabric and linings can be washed according to manufacturers directions.
FRAYING FABRIC - If the fabric frays or unravels easily, consider finishing the edges with a zig-zag stitch, or use a Serger before washing.
Fabric Preparation
Dry Cleaning Fabric
If the manufacturers directions recommend dry cleaning, then you're options are:
OPTION 1 - If the manufacturers directions say dry clean, then ideally have it dry cleaned. This can be expensive and inconvenient, so sometimes the decision may depend on what you're making. If your making a formal dress probably dry clean first, but if your making a one time costume, and don't want to spend the time or money on dry cleaning, you might decide to take your chances.
OPTION 2 - Test (see testing above) the fabric for shrinkage and staining by cutting a small piece of the fabric. Use steam and a press cloth (see press cloth below) between the fabrics wrong side and the iron. Press until dry and clear of wrinkles. Also try to eliminate the crease from the fold where the fabric was folded by the manufacturer.
C) If the tested fabric didn't shrink at all, then depending on the fabric, maybe no further action is necessary. If you're doing designer work, do the dry cleaning. If you are a beginner, try and find fabric with minimal needs or consider the options here.
d) If you choose to take no action with the fabric, then just be prepared that it may change when cleaned. Again it will depend on the plan and the importance of the finished project. I try to stay away from dry cleaning, but have done it on occasion. When I come across a fabric I love enough I do what I must.
Once you determine how to treat the rest of the fabric, proceed.
Fabric Preparation
Pressing Cloth and Pressing Vs Ironing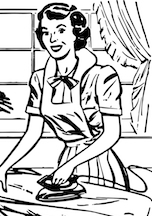 PRESS CLOTH - Make a press cloth by cutting a plain muslin or cotton fabric piece a little bigger then the size of your iron. Make sure it stays very clean, or you may find yourself transferring stains to the front of your masterpiece. For tough wrinkles or fusible interfacing dampen the press cloth.
To dampen soak with water, then squeeze tight. Place iron on the area to be pressed, and hold for a few seconds, or until dry. Then pick up iron and press cloth, move to next spot and repeat until done.
USES: Protect fabric from direct contact with the iron Protect from water stains from the iron itself Test fabric for preshrinking Applying fusible webs or fusible interfacing Press out tough wrinkles Press most anything
DISTILLED WATER IN THE IRON - Distilled water is less likely to leave water stains. Using distilled water and a press cloth will help avoid stains on the front of your new garment.
PRESSING VS IRONING - After washing, use the press cloth on the back side of the fabric. Press, holding iron in place for a few seconds, then pick up iron and move to the next spot. Lower and press. Repeat. Avoid sliding the iron around on the fabric since it can stretch the fabric.
Fabric Preparation
End of Fabric Preparation

Back to Free Sewing Instructions Landing Page