Christmas Sewing Projects
Full details on Christmas sewing projects below

Christmas Sewing Projects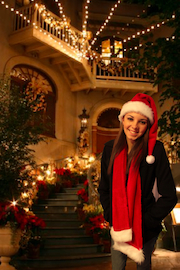 Tips
A few tips on keeping it fun:
Allow enough time and start early. Waiting until the day before you need it can add lots of stress to the holidays.
Keep it simple. Getting too ambitious with a new skill just before the holidays can take the fun out of it, and even be discouraging for a beginner (believe me, I've been there).
The holiday apron is an easy sewing project for an experienced sewer, but for a beginner sewer the Santa Hat and the Santa Scarf would be a better place to start.  
Review basic sewing pages first: .sewing tools, basic instructions, installing a zipper and  waistband are a few good ones to start with.
 Also, please check out and subscribe to our Youtube channel. https://www.youtube.com/channel/UCvbCb97uk9IjDIwCorzkJyA?view_as=subscriber