Cioppino Recipe
This Cioppino recipe is absolutely delicious!  As amazing as it is, it can be altered to your liking. There are many Cioppino recipes and few of them are alike. As a matter of fact, Cioppino got started in the late 1800s when Italian immigrants who settled in the North Beach neighborhood of San Francisco started this tradition. When a fisherman came back empty handed, they would walk around with a pot to the other fishermen asking them to chip in whatever they could. What ever ended up in the pot became their Cioppino.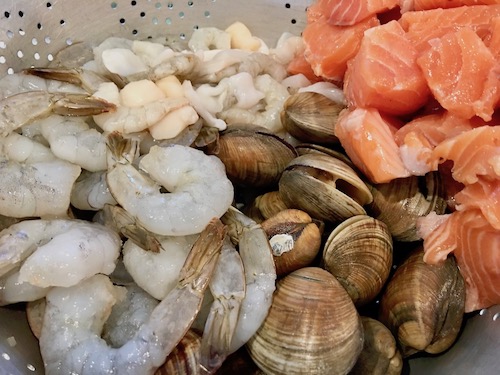 Directions
Start by sautéing olive oil, fennel and onion
3 tablespoons olive oil
1 large fennel bulb, chop white root section
1 onion
Add in the following:
1 large can (28 oz) crushed tomatoes with juice
1 green pepper, chopped
1 hot pepper (optional), chopped
1 teaspoon oregano
1/2 teaspoon paprika
1/2 teaspoon cayenne pepper
1/2 cup parsley
3 large shallots, chopped
4 large garlic cloves, finely chopped
1 jar tomato sauce
1 1/2 cups dry white or red wine
5 cups fish stock
1 bay leaf
salt and pepper to taste
crushed red pepper flakes to taste
Simmer for 7 hours and refrigerate overnight is best.  The following day bring mixture back up to hot and add fish about 45 minutes before serving.
Fish
1 oz. prawns
1 oz scallops
1 oz mussels
1 oz clams
lobster takes
1 pound halibut,, salmon, or/and  catfish. Cut into 1 inch chunks
Enjoy!