Gold Dress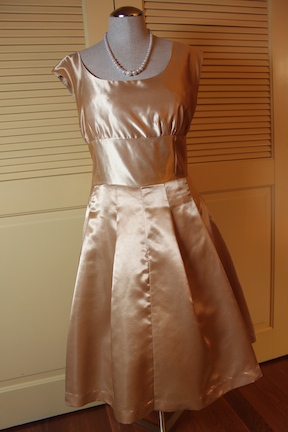 This gold dress was inspired by my 17 yr old daughter. She was elected to be Columbus Day Queen in 2009 and I needed a dress. I knew we would have many formal events over the next year, so I decided to try my hand at sewing something formal.  Normally I would go out and spend a couple of hundred on a new outfit, but this time I wanted to make it.  
I had planned all along to sew this Vogue pattern several times. I knew I wanted a summer dress or 3, and a formal dress or 4. We would have 12 formal events over the next year, so 4 would give me plenty of variety.
Inspiration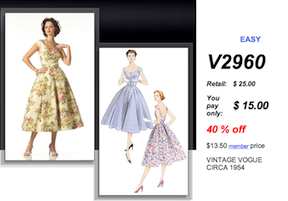 Pattern
Again the pattern would be the Vogue pattern that I love. By now i've done 4 dresses and 1 top with this pattern, and the last one "Brown Polkadot Dress" came out great. I also had learned so much from my sewing teacher by this time, that I was feeling really confident.
Gold Dress

Fabric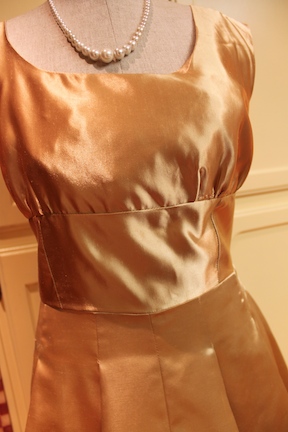 The fabric was not an easy choice. So far (on these 6 dresses from the Vogue pattern), I had used sheets, table cloths, napkins, curtains, clearance price fabric ($1 yard), or fabric I had owned for years. This time I was going to need to buy some fabric, probably not on clearance, but I did have my handy dandy 40% off coupon from Joanne's Fabrics. Still it is more nerve racking when it's time to cut into new fabric you just spent $50+, versus old sheets and curtains, and this is not an easy pattern.
After much deliberation I settled on the gold. Originally I was planning to use the other side, which had a much more retro look to it, but after a crack from my husband about it looking like curtains. I flipped the fabric and went with the shiny gold side instead of the dull side with the horizontal grain. I lost a lot of the retro look I was going for but I still liked it.
Gold Dress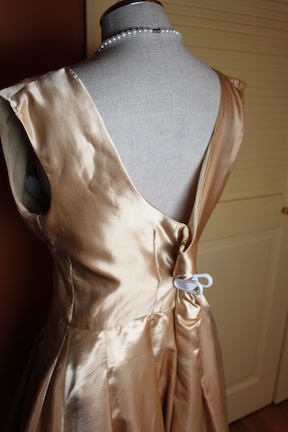 End Result
The dress came out well enough to wear, but throughout the evening the neck line got bigger and bigger. Long story short, I didn't stay stitch the neck line, so it stretched. Some fabrics can get away with it I guess, but not this one.
At this point, I need to take the lining apart from the dress to properly go into the neckline and stitch it. Just not ready to go back to it yet. I do like the dress, but felt a lack of support. I may need to make a cloth belt to finish it off and add a little more shape. Also make a proper full slip to give the skirt more fullness.
Since these photos show the dress on a size 4 dress form, and are pinned and clipped to make the dress look at it's best, some of these details may not be obvious.

Back to Free Sewing Projects
Back to Home Page
Back to Top - Gold Dress
Gold dress